TARGET2-Securities (T2S)
T2S: a pan-european settlement platform
T2S is a centralised platform providing harmonised securities settlement services in central bank money. T2S allows settlement in Euro and in Danish Kroner. Additional currencies may become eligible on T2S in the future, depending on the non-euro central banks interest.
T2S has been designed as an integrated system, encompassing both the dedicated cash accounts (DCAs) opened by the central banks and the securities accounts opened by the CSDs.
The BCL delivers DCAs to the payment banks willing to settle transactions on T2S. In Luxembourg, the securities accounts are delivered by LuxCSD. A DCA delivered by the BCL can be linked to a securities account opened by any CSD participating in T2S .
T2S Dedicated Cash Accounts operating modes
A financial institution eligible to hold a DCA can manage it following different operating modes:
Either through an indirect connection, by opting for an ICP status (Indirectly Connected Participant). In this case the DCA is managed via the Target 2 interface (for Euro currency), which allows provisioning the DCA and consulting the DCA balance (with the T2 Value Added Services – V.A.S.).
Or through a direct connection, by opting for a DCP status (Directly Connected Participant):
- In U2A mode (User to Application), which allows accessing the T2S functionalities via the T2S screens (GUI)
- In A2A mode (Application to Application), which allows the participant to communicate with the T2S platform by exchanging ISO20022 messages
Note: In case of a direct connection, U2A or A2A, the connectivity with T2S has to be established through one of the two authorised VAN providers, i.e. SIA-Colt or SWIFT.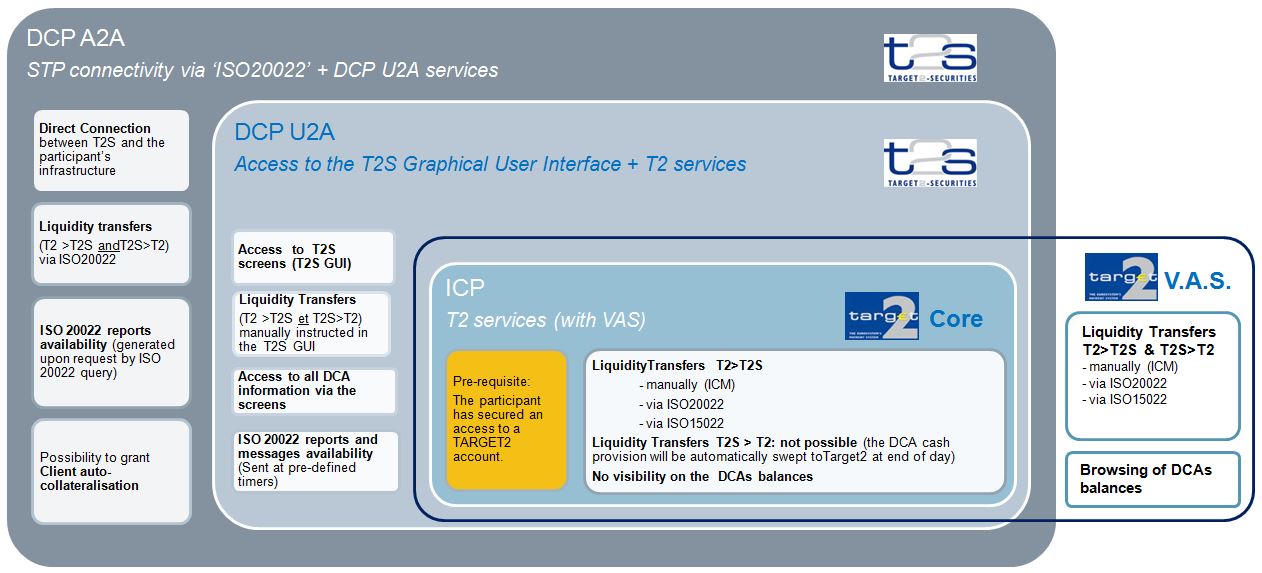 Open a DCA at BCL
Institutions considering the opening of a DCA at BCL are invited to declare their interest to the BCL, by sending an e-mail to T2S@bcl.lu and Paysys@bcl.lu
This declaration must quote the below information:
Exact name of the legal entity
Respective BIC(s)
Contact details:
°Institution official name (fill in only if different than legal entity's name)
°Postal address
°Salutation (Ms/Mr)
°First name
°Last name
°Position in the company
T2S: A collaborative Eurosystem project
T2S is a Eurosystem platform developed in close cooperation with the key market stakeholders, especially the European CSDs.
All information pertaining to T2S (stakeholders, working groups' endeavors, etc…) can be accessed on the ECB website:
https://www.ecb.europa.eu/paym/t2s/html/index.en.html
Contacts
For any question relative to T2S, feel free to contact us at the following email address:
Useful links:
Forms to open a DCA with BCL